Introduction to Scale Painting Techniques
Any visible item that you detail on your model aircraft will draw attention. The first thing most builders will detail is the cockpit.
At minimum a pilot is added. The next item is an instrument panel and from there anything up to a full cockpit. While this is always impressive it is also a lot of work and can only be seen by a viewer standing next to the model.
Exterior details, such as wheels, can add a lot of character to your model for a lot less work and are far more visible. Unfortunately the current scale wheel pickings are extremely slim, but some are close enough for sport scale purposes.
Out of the package all wheels look like plastic toys. Most guys paint the hubs a solid color if they paint the hubs at all. If you take the extra time to address the details your work will really stand out.
For this article I am painting Williams Brothers 6-5/8" Vintage (WWI) Wheels to go on an SR Batteries Fokker Eindecker. The wheels are intended to represent full-scale wheels having spoked rims covered with canvas. The canvas covers were to improve aerodynamics and keep mud out of the spokes.
Visible lacing through grommets in the perimeter of the canvas attach the canvas to the hub. Williams Brothers nicely details these items.
My intent with these wheels is to make them more realistic. In the end they should look used, but not abused. They will leave the plastic toy look far behind.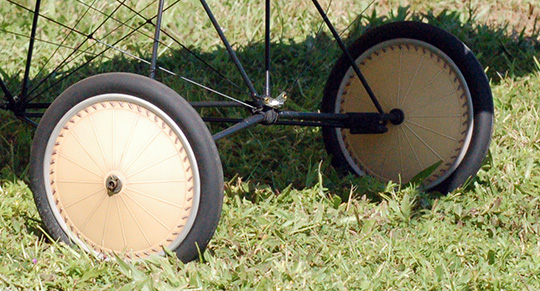 In this series
Also see