How to Paint a Scale Pilot Bust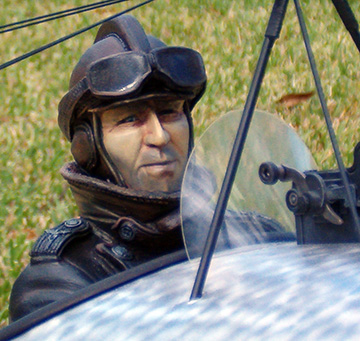 In the interest of irrelevent disclosure, I want to start off by saying I don't enjoy anything about figure painting. But it's a skill I need to develop so I don't have to avoid having figures with my models and so those figures don't lower the quality of the overall piece.
So this is an article by a guy who is happy with the end result but doesn't enjoy the process of getting there.
Before you start painting you should have already set up the mounting for the bust. You don't want to handle the pilot any more than necessary after it's painted.
When the bust has the mounting set up clean it thoroughly to prepare it for paint. The best way to do that is run some warm water into a sink. Add a good degreaser such as Tri-Sodium Phosphate (TSP). If your area has outlawed TSP then find something similar. Do not use dish soap! Dish soap contains chemicals to make water sheet off dishes and it can cause fisheyes in your paint.
Use an old, soft toothbrush to scrub the pilot clean. If you read the article about mounting the bust you'll know this one has some thin areas and is weak. Don't scrub too hard or you may break through those thin areas. Scrub gently but thoroughly.
If you have an air compressor then use it at low pressure to blow most of the water off and out of the bust. If you don't have a compressor then gently shake most of the water off and put the bust someplace warm to dry. If the area is dusty then cover the bust with an upside-down bowl that is propped off the surface about an inch so air can circulate and the pilot can dry.
I strongly suggest that you don't wipe the pilot dry. You'll probably end up with lint all over the pilot and possibly give him a static charge. The static can mess up your paint if you use an airbrush.
Look over the figure carefully and check for any defects that need to be corrected. The Aces of Iron pilot in this article has flash between the collar and the neck and down the back of the jacket. The left eye had a cyst below the upper eyelid that I didn't notice until I was painting the eyes. I had to remove all the paint from that eye using a brush dipped in thinner and then trim away the resin to correct it.
The only filling this pilot needed was where I chipped it in one area of the base when I was sanding the excess resin away. I filled that with micro-balloons and epoxy resin when I mounted the pilot.
In this series
Also see