About fiberglass base finishes
Mike James (NextCraft composite guru) tells me that a fiberglass finish adds tremendous strength to the finish by "unitizing" it.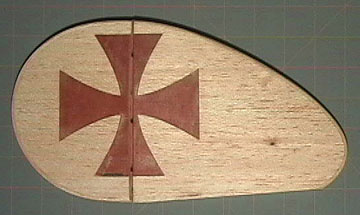 A fiberglassed component
A common misconception regarding a painted fiberglass finish is weight.
A painted finish using fiberglass as a base is not heavy if it is applied correctly.
The only purpose of the resin is to adhere the cloth. There is no reason to apply heavy coats of resin. Applying a light coat and sanding between each coat of the finish will keep the finish thin and light.
The reason painted finishes have gotten a bad reputation is because some people slop on the resin and then apply a second coat. A light sanding is followed with a thick coat or three of primer. These are lightly sanded, Bondo is added and then thick coats of paint are applied.
A finish such as this is heavy and the paint is likely to chip, peel or crack under flight stress and ground handling. More likely the plane will become a hangar queen because it is overweight. The perpetrator of this finish will carry on the fine tradition of claiming paint is heavy. His paint jobs are heavy, but yours don't have to be.
If you begin with good construction then you shouldn't have to use much filler if at all.
This article will not discuss priming and painting. It will teach you to apply a good, lightweight fiberglass base. What I am presenting is the traditional technique for applying glass cloth.
Caution! Do not apply fiberglass in extremely humid weather. Water will end up in the resin and it may never cure properly.
Resin can be applied in cold weather, but it will take a long time to fully cure. It is best if you can put the component someplace relatively warm while it cures.