Landing Gear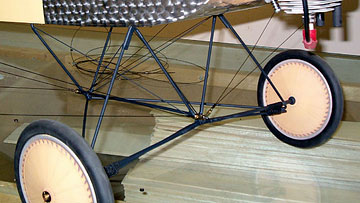 The landing gear is shock absorbing, scale in appearance and appears very durable. Although there are many pieces, it looks more complex than it actually is. I hope you enjoy soldering though. There are 20+ solder joints in the gear and many of them are wire-wrapped. I used regular rosin-core solder throughout.
Don't cook the solder joints or you will change the temper of the music wire and significantly weaken the gear.
I suggest that you use a small torch (carefully) or a heavy-duty soldering iron. The type iron used for electronics work probably can get the job done, but takes a very long time to heat the large joints to the point that the solder will flow properly.
All the pre-bent pieces fit well except the triangular piece in the first step. It didn't match the piece it is wrapped and soldered to so I pulled out my wire bender. I went back and forth bending and fitting until I was happy with the fit.
One thing that would be nice is for the manufacturer to specify how long to cut each piece of wrapping wire. I had no idea so I took a wild guess and then added some to that. Because of that several pieces were cut way over-length leaving excess that was too short for other pieces. I ended up not having enough copper wire for the whole job. Enough is supplied if you more accurately guess correct lengths than I did.
Running out of wire didn't cause any problems for me because I keep the stuff on hand. You can get fine copper or brass wire at most hardware stores.
We put a lot of load on the landing gear when we were rigging the model. We pushed down hard on both wing tips to bow the wings so we could attach the flying wires to the landing gear. The gear can take a lot of force and spring back to its original position. One solder joint broke where music wire goes into a brass tube. I pulled out a small torch and silver soldered the joint using a very small bit of acid.
The Klass Kote paint did not burn off. It did turn a little darker and shinier. I like it better. I think I just invented baked epoxy enamel paint. OK, I didn't, but I'm thinking of torching the whole gear to see if it makes the paint harder. If I'm wrong and the paint burns off then I get out the steel wool and repaint.


Mike made a nice tool to help assemble the model at the field. It is very high-tech consisting of a cut-off 1/16" drill bit CA'd into a dowel. It works great!
I wrote a very detailed article about painting the wheels so you can read about the wheels there. When I began on this model there was a discussion about drilling big holes in the wheels to save weight. I won't mention names, but it wasn't my idea. I said, 'Let me paint the wheels and then see how much you still want to save that weight.' The wheels made it to the end having only an axle hole.
I'm very happy with how the wheels came out. Several people have told me that they aren't actually "scale" wheels. Wheels used in WWI had spokes that overlap just like bicycles and motorcycles have today. They were also dished meaning that the hub was off-center to the outside when viewing the aircraft from the front or back. Ok, so the point is that these wheels are the same scale as the rest of the model. Better than close enough for fun.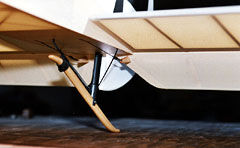 The tail skid is laminated from 3 pieces of spruce which are then sawed and sanded to final shape. It's a focal point of the model and worth taking your time with.
I decided to make the skid from beech stock. After final shaping, I fiberglassed it with a piece of 0.5 ounce cloth on each side. I sanded the fiberglass after the resin cured and then sprayed two wet coats of satin clear Klass Kote.
The skid mounting requires some wire bending, but isn't too difficult. If you don't like it and can't fix it, cut the wire using an emery wheel in a Dremel and try it again with a new piece of music wire. Fit and adjust until you're happy. This is the only portion of the kit where it isn't pretty much spoon fed.
Like the main gear, the tail skid is shock absorbing through the use of more elastic cord. This model will be flown off grass so we didn't do anything special to save the bottom of the skid. As it wears we plan to apply thin CA every so often until a hard, long-lasting surface is achieved.