Types of Hinge Points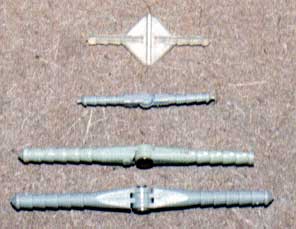 The top hinge is a Klett (Carl Goldberg) Hinge Point. I bought these years ago and have never used them. The web basically means that I am back to cutting slots again. All other Hinge Points shown here are manufactured by Robart.
Other manufacturers are copying the design although I have not used any of them.
Second from the top is a 1/2A Hinge Point (3/32" diameter). I have successfully put them into wood as little as 1/8" thick, although that was a challenge.
The lower two Hinge Points are Standard Hinge Points. They are the same size with the lower hinge being of stronger construction. It is wider at the center which I found out when I couldn't get one to easily slide into a 1/8" hole. In fact, I did not even know I had two different types of 1/8" hinges until this happened and I examined the hinge more closely.
I do not believe the 1/8" Hinge Point second from the bottom is being manufactured any more.
In addition to the hinges shown here, Robart also manufactures a 3/16" Hinge Point for large scale models. They also make a Hinge Point with a built-in control horn.