Chucks, Collets and Accessory Bits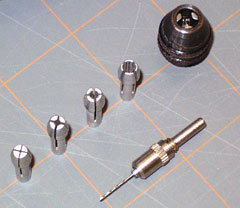 Every Dremel tool I have purchased has come with their standard chuck and collet assembly. While it works just fine, it isn't real convenient and it's not very versatile.
The tool comes with only the 1/8" collet which works for 95% of all bits made for rotary tools.
Some smaller bits have 3/32" shanks which means you'll need to purchase the 3/32" collet. At some point I purchased all the collets. There are four different sizes as shown here.
I don't know what the actual size of the smallest collet is but I've yet to have a bit so small that the collet couldn't hold it. The other two sizes are 1/16" and 3/32".
At some point a Jacob's style chuck became available. Unfortunately it doesn't fit every model Dremel model because of the randomly chosen housing style which is a Dremel standard. See my tirade further down this page.
The Jacob's chuck rubs against some nose pieces and can't be used. I actually have two different Jacob's chucks. Some of my Dremels can't use either one.
I wouldn't use a Jacob's chuck on a corded model anyway. They are designed to be hand tightened and I think it's a safety risk to use this type chuck in a more powerful model.
I do use Jacob's chucks in both my Mini-Mites. It eliminates having to change collets. It doesn't close far enough to use micro drill bits which is why I have the chuck adapter shown at the bottom of the above photo.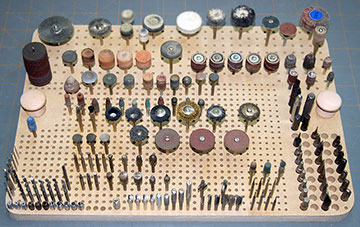 It used to be that you could buy a Dremel tool without any accessory bits. I haven't seen it sold that way in a while, but if you can find the tool without bits then I suggest you purchase it that way.
Dremel says you get <insert number here> accessories with the tool, but most of the accessories are not real useful. For example, you may get 25 sanding disks which count as 25 of the 60 or however many accessories.
On the day you die, some lucky descendent will receive 24 of those disks in brand new condition. There are probably only a couple accessories in the package you will actually use and you will save money just purchasing them separately.
There are other manufacturers who make accessories that fit moto-tools giving more choices. It pays to shop around. I have a nice set of bits for a moto-tool. When I got my new Microlux drill press, I needed to play with it of course, so I made a little holder for my bits from a scrap of press board.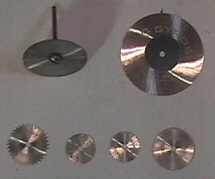 I do not use the emery grinders very often because I do not really have a use for them and when I do, the job is usually too big for a Dremel. Actually, the Dremel can handle it, but the grinders wear down quickly.
The bits I use the most are sanding drums, cut-off wheels and rotary saws. The straight router bits get used fairly frequently as well.
On the left is a saw set made by Gyro. It was a fairly expensive set, but it is a one-stop shopping thing. You get everything shown in the image in one package rather than paying even more for them individually. The blade I use the most is mounted on the mandrel (top left).