Jigs and Fixtures
The difference between a jig and a fixture is that a jig moves and fixture doesn't.
A Jig or Fixture is a device used to hold and align a structure while it is being built. There are not many jigs made for model-builders simply because of the variety of models we make. It is difficult to make something universal and nobody would buy a jig specifically for a single kit unless the kit itself was extremely expensive and the jig was relatively small expense.
One of the great benefits of making molds is consistency - each item coming from the mold will be identical to the last. That's why a lot of model builders make molds. For example, the average modeler could carve nine cowl bumps for a Golden Age biplane in a few hours. Making the mold and casting the pieces will take much longer than that. But they do it anyway because they would rather all the bumps be identical than save the time and have inconsistent parts.
Anyone who has ever worked in a factory can tell you that setup is important. In the above example, if the mold is wrong everything that comes out of it will be wrong. The same goes for setting up your jigs and fixtures. Take the time to set things up right and then test it. For example, when I'm cutting a bunch of duplicate parts on my table saw I do some test cuts first to ensure I'm getting what I want before I start ruining the actual parts I'll be using.
This is especially important if the parts already have work done to them. If they get ruined then you have to start all over again and repeat the steps you already completed. It's far better to ruin some wood making sure the setup is right first.
These are tools I made to help me make magnetic fixtures.

When orders were coming in slowly I made them just as shown in the article in the above link.

A scroll saw works for a small number of fixtures but for mass production it's very inefficient.

On the left is a sanding fixture. Because the magnetic fixtures are thin aircraft plywood they are difficult to hold while finish sanding. Now I can sand them in pairs and they are held securely.

At the top of the photo is a sled for my Microlux Table saw. I should have made one of these years ago. It does everything better than the cheap miter gauge that came with the saw and it reduces tear-out. Note the extension arm for cutting larger magnetic fixtures to the correct length.

At the bottom of the photo are jigs for sliding the fixtures through the table saw. There is one for each size fixture. On the bottom is a plywood strip that fits in a runner on the saw table.

This jig ensures that every fixture is identical. Sandpaper glued to the jig helps prevent the part from slipping and being ruined.

I can cut out hundreds of fixtures in a very short time now. In fact, I can cut an entire set in the time it would have taken me to cut two or three fixtures using my scroll saw.

If I had built the fence higher I could cut more than one at a time so that's something I will probably do.

Several of the operations are done on multiple fixtures at one time such as drilling and making the cut-outs for the vertical presses.

Making these fixtures requires nine separate sawing operations, three drill press setups and multiple sanding operations.

There are over 400 fixtures in this photo and about 150 vertical presses. Everything shown here took about three days. In the past, cutting this many fixtures would have taken me about two weeks.

Now I have to block sand every piece and finish them which is the most time-consuming part of making these fixtures. Cutting them out used to be the long part but it's pretty quick now that I've tooled for it.

Note that I always cut extra fixtures to account for rejects. Having to go back and set everything up again to cut and drill one fixture isn't very efficient.

By the way, if you're wondering if the Microlux table saw can do what you need, keep in mind that I've had mine for years as of this writing and it's still going strong. I'm on my third carbide blade, but it still has the original belt. Overall the saw is showing no signs of deteriorating after thousands, possibly hundreds of thousands of cuts including hardwood up to 1" thick (which it doesn't like very much).

There used to be a great wing jig on the market called the A-justo-Jig. The company name was the same as the product name. This jig was comprised of two halves that hinged together in the center allowing the builder to construct a wing six feet long in one piece. The hinge allowed for built-in dihedral.
Two 5/32" music wire rods were strapped to multiple rib stations that could be adjusted individually as necessary. Ribs were drilled for the rods and slid into place. Once it was all set up, a wing could be built perfectly straight. The entire jig could be rotated 360º.
Additionally, there was a fuselage attachment. I had both these items, although I was never too successful with the fuselage aspect. On my jig the two halves of the wing jig did not align very well so I took it apart and made a three foot fixture. I could only build half a wing at a time, but it was a marked improvement over building on a board. In spite of these short-comings it was a great jig. If you can find one I suggest you purchase it if the price is reasonable.
Please note that the Ajusto-Jig is no longer in production. I do not know where you can get one, but there are probably a lot of them sitting around collecting dust. Try asking folks in your club or checking on E-Bay.
Download instructions for Ajusto-Jig (1.6 Mb zipped)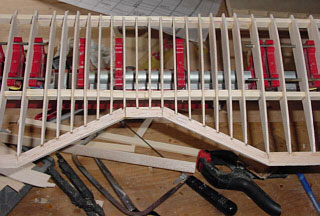 This image is from a site I came across while looking for images of the Ajusto-Jig. Click the image to go the site and see the Ajusto-Jig being used to its fullest capabilities — including the fuselage jig attachment.
There are a couple generic wing jigs on the market now. To be honest I am not real impressed with them. They are basically two 1/4" rods clamped into supports on either end. There is no built in way to make sure the ribs are spaced properly or perpendicular.
This type jig is the sort of thing that you could build in an hour or two using stuff you have around the shop and I see no point in buying one.
The one thing this kind of jig allows that can not be done with the Ajusto-Jig is the wing can be entirely sheeted while still on the jig. There are no rib stations to interfere with the sheeting.
On the Ajusto-Jig, the wing can be sheeted completely on side and partially on the other side. The wing must be removed from the jig to complete the sheeting.
The downside to a wing jig is that the finished wing will only be as straight as the holes drilled in the ribs. If you stack the ribs and drill the holes at an angle the finished wing will be correspondingly twisted. You can either drill the ribs individually or use a drill press which is probably the best option. The ribs must still be stacked exactly in relation to each other.
The reality is that setting the jig up takes a lot of time to do properly. However it will ensure a straight structure making it well worth the additional work in my opinion.
The fuselage must be straight and symmetrical as well. A warped fuselage can not be corrected with trim adjustments and the plane will never fly straight throughout it is entire flight envelope. For a box fuselage (Ugly Stik) I draw a centerline and former stations on the building board. Then I align all the parts, clamp them all together and measure a few times until I am absolutely satisfied it is as good as it can get.
For more complicated fuselages, I used to cut triangles from cheap 1/8" interior plywood and hot glue them to a particle board base. Building a straight structure is too important to try to take short-cuts. Think about it this way — the extra time involved getting the structure straight while building it will be insignificant compared to always having a plane that does not fly right.
This is a fixture I made to build the hull of Marsh Hawk. The fixture pieces are made from the cut-offs from the hull formers.

They are glued to a piece of particle board.

Without a fixture of some type, this hull would have been impossible to build straight.
Because I am building with magnets now, I can make triangles of any shape and bolt magnets to them. They are accurate, stable and secure. Additionally, they can be removed from the board without damaging it unlike the hot-glue method.
Most jigs are not permanent fixtures. When joining straight wing panels, for example, the blocks put under the wing tips for dihedral combined with a straight-edge used to make sure the panels are aligned correctly is considered a jig.
I have never had to do this but I have seen some modelers actually build truss assemblies to build a fuselage in. These are usually for scale fuselages that had unconventional shapes such as flying boats.