Construction
The Marsh Hawk was built almost entirely from 1/8" veneer plywood. It was incredibly inexpensive to build. In fact, the entire project cost around $125.00, over half of that being the finishing materials. This is the first boat I ever built. I knew nothing about them other than they are supposed to float on the water.
I had some data on buoyancy and formulas for determining how much volume was necessary to support a given weight. I neglected to use any of this information and lucked out in spite of myself.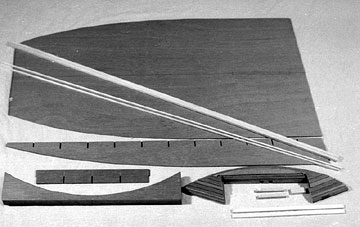 When I started on this project, I did not have a saw large enough to cut down the plywood so I drove around town talking to cabinet makers to find out how much they would charge to cut a few parts for me. I couldn't believe some of the quotes I received.
I happened to stop into one shop, Mayo Cabinet Works in Gainesville, Florida that was owned by a very nice gentleman who said "Do you know how to use a band saw? There it is." and set me loose in his shop. He did not charge me a dime even though he had to stop what he was doing to come over and show me where the power switch was.
I spent an entire afternoon in his shop cutting out hull formers and the planking. He only asked that if I ever become famous that I give him credit for helping me with the project. I doubt I will ever be famous, but he does deserve a lot of credit for being a genuinely nice and helpful person.
A few months later I was building a cabinet to store my wood in and had him cut the pieces for me. I did pay for that work. I needed one more short length of 2 x 2 to complete the project and he gave me the piece. When I started driving screws into it, they were being twisted in half.
He broke out laughing when I came back to his shop before I ever said a word. He knew he had given me a rock-hard piece of oak. Jokers... got to love 'em. Anyway, he's a nice guy and if you ever need cabinets made or any other wood work, talk to him first.
After I had all the pieces I needed, I built the boat in about a month of spare time. It was completely covered with fiberglass cloth and then sprayed with automotive primer. My friend, Barney, who has done auto refinishing for years taught me how to use my Badger touch-up gun properly and everything I needed to know to put on a great spray finish from prep through the last coat of paint. The finish turned out better than I hoped for.
Before the finish, coats, however, I placed the primered hull in a swimming pool to check it for leaks. I was a little concerned about the fact that it sank about 2/3 into the water leaving only the very top of the hull was above water. The boat is a tunnel-hull design, so my hope was that as the boat gathered speed it would skim the water as it was designed to do. This is exactly what happened.