Make Decorative Inlays for a Naturally Finished Model Airplane
Something I have wanted to do for a long time is apply a natural finish an R/C aircraft that is fully sheeted. I really like the look of wood and have seen very few models with natural finishes. The ones I have seen were nicely executed and very attractive.
In some ways a natural finish can be forgiving of errors. For example, low areas that would normally need putty will not show except under close scrutiny. These areas would have to be filled for an opaque color finish. Obviously the wood work needs to be good. Gaps in joints and other poor craftsmanship will really stand out.
There are some obvious disadvantages to this finish. Dings, dents and damage will be difficult if not impossible to repair to a like new state. A break in the wood will be clearly visible. One possible way to cover a repair would be to paint a trim color over the area.
Note: The inevitable happened.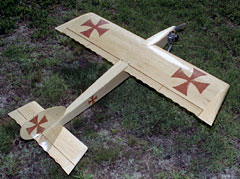 I decided to give it a try. The worst thing that will happen is I will never want to do it again. I originally was going to build a second prototype of Shadow and give it a natural finish. I do not remember exactly when or why I decided to build Rustik, but somehow I just started building one and that is what is being presented here.
After making the decision to go with the natural finish, I began wondering what I would do for trim colors. I considered several things such as staining the center sheet of balsa for the wing sheeting before joining the sheets and several other similar ideas. Most of those ideas involved using stain.
I did not want to mess around with trying to stain balsa. That would be akin to trying to stain a sponge. I had nightmares of the sheet swelling to twice its thickness, warping so badly the sheet would be ruined or simply taking a month to dry.
Then I had a brainstorm. The classic Das Ugly Stik has large Maltese Crosses on each wing, the fuselage sides and on both sides of the fin and rudder. It did not take me too long to figure out that I could inlay thin plywood into the sheeting. The plywood is darker than the balsa and the finish would bring out the color.
This is the first time I have ever attempted any type of inlay other than simple rectangular plywood plates into control surface to provide a hard point for control horns. Before ruining a lot of perfectly good wood, I practiced on some scraps to give me confidence that I could pull this off.
The sheeting is 1/16" contest balsa. The Maltese Crosses are cut from 1/64" plywood. A friend found some clip art on the web to use as a pattern and sent me the link. The image was imported into a draw program and edited until I liked the shape.
The finished pattern was too big for my printer so I cut the cross in half and added a centerline for registration. Two copies were printed, cut apart on the centerlines and taped together to make a whole cross. This pattern was spray glued to some heavier cardstock that was used as the final pattern.
From the time I downloaded the image from the web to the time I had four plywood crosses was about two hours. The time required to inlay the first cross was about 1-1/2 hours. By the time I got to the fourth cross I was down to twenty minutes. This is how I did it: