Making the Fixture
I have taken the basic idea presented there and adapted it slightly. Instead of using angle aluminum stock, I have used square stock because it is more rigid. I have had problems finding absolutely straight angle stock. It tends to flex easily which means a straightedge is needed to ensure it is bolted to a board or clamped down while keeping the sanding face true.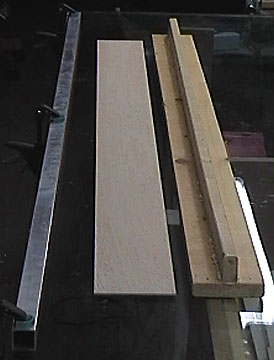 The rigidity of the square aluminum keeps it straight.
Another way to do it would be to route a lip on a piece of particle board and use wood screws to hold a piece of angle stock in place. If the routed lip is straight, then the angle can be pushed against it to ensure it is also straight.
Use a good grade of sandpaper, such as the new paper made by 3M called Sandblaster. Good sandpaper will mean you do not have to remove the angle as often.
I often use 48" stock so I made the jig 5' feet long. But it can be as long as you like. I simply clamp the jig in place on my bench for use and when I am finished it can be put in a corner out of the way.
A sheet of sandpaper is cut into strips and spray glued to the aluminum. Clean the aluminum with solvent or alcohol before applying glue. Also be sure to spray both the back of the sandpaper and the aluminum. Allow the glue to become tacky before adhering the sandpaper.
Alternatively you can use sticky-back sandpaper that comes in rolls. I really do not like this stuff because it tends to be thick and wavy and does not like to stay down. If the sandpaper is not flat on the block then it is not able to sand straight or flat.
A push block is needed to provide even pressure on the sheet stock so that it sands evenly. Most sheet can flex easily across it is width so using your hands will probably result in a bowed edge rather than the straight edge needed.
What is not shown here is that the corners of the aluminum are rounded slightly. The sheet will be radiused along the edge unless a board of some type is placed against the aluminum to raise the sheet up from the radiused corner. I use a scrap piece of masonite because its smooth surface allows the sheet to slide easily. A piece of smooth particle board would work just as well.
Caution! Be sure that the bottom of your push block and the surface that you are sliding the sheet on is free of any grit that will gouge the sheet.
I tried using my T-Bar sanding blocks as push blocks but even with coarse paper they kept slipping. My solution was to use a piece of scrap 1 x 4 with several pieces of sandpaper on one side of it to grip the sheet stock. On the other side I used polyurethane glue to attach a 1 x 2 handle. It is not pretty and it is not too flat either, but it does not really need to be as long as it can grip the sheet fairly evenly.
I tested the jig by sanding a stack of six 3/32 x 4 x 48 balsa sheets and I finished the whole stack in about the same time it would have taken me to do one or two sheets using my previous method. All the sheets matched up extremely well.