About Gonzo
Three-Channel Aircraft
Most people start out with a four-channel trainer and then progress to more advanced airplanes and have never owned or flown a simple, lightweight three-channel model.
Planes like Gonzo are reliable, low maintenance and low stress. They are also a lot of fun. I do not mind handing the transmitter over to anyone - particularly friends and family who are not really interested in getting into R/C but would like to give it a try.
I had very few opportunities to build or fly models while I was in the Army. Living in barracks makes model building difficult and frustrating. The situation changed when I was stationed in Germany in 1998.
In Heidelberg, I lived in a flat that had eight bedrooms (two per roommate) plus common areas (kitchen, living room, etc.). At that point I turned one of my two rooms into a shop and began building plastic models again.
It did not take long before I wanted to get back to flying. I took some leave in the summer of 2001 and completed the Herr Pitts Special. I hadn't flown for years and the Pitts looked like it was going to be hot so I decided to get back into flying with something a little tamer.
I bought an Almost-Ready-To-Fly (ARF) kit of a Piper Cub that was designed for a .25 engine. It was built it in an evening and flown the next day.
One of the wing panels had been manufactured with a serious warp that wouldn't come out with a heat gun. After a few weeks of unenjoyable flying, I donated the Cub to Reiner Pfister's hobby shop in Germany for him to do with whatever he wanted.
Because the local shops had nothing but ARF's, I realized that I would have to design my own plane or order a kit from the States. The decision was easy. I bought a stack of wood and got to work.
I designed and built Gonzo in less than a week in August 2001. Essentially I wanted something that I could get into the air as quickly and cheaply as possible.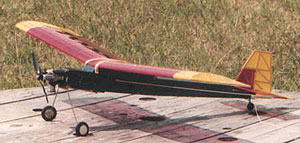 I did not expect Gonzo to make it back to the States in one piece so there was no point in putting a lot of effort into constructing it. I just wanted something solid and simple that I could fly for a while before leaving Germany.
The basis for Gonzo's design was a three-channel plane I built back in the 80's named Stinky which was essentially a Craft Aire Piece 'O Cake with shortened wings and fuselage.
I did not have any drawings or tech data for Stinky so I went from memory and what looked right.