About Great Gonzo
Great Gonzo is my "Zen" airplane. I call her a Kite with an engine because that is how she flies. Of all the R/C aircraft I have owned or flown, this one is my favorite by far. She was designed and built in approximately ten days in early September 2001 and is a direct descendent of Gonzo.
When I fly Great Gonzo 90% of each flight is with the engine idling or a couple clicks above low idle. That is no exaggeration. With the CV-A she can climb at about 1,000 feet per minute at full throttle and once at altitude she just floats around on the air currents. I have also used a Magnum .15 which is significantly less powerful, but still provides plenty of power for the model.
To really enjoy this airplane you have to work with the wind and let the plane do its thing. I like to keep her nose pointed within a 180 degree arc. At 90 degrees she is directly into the wind. To move downwind, I simply turn her slightly away from that heading and let her drift.
She is incredibly relaxing to fly. I usually grab a drink and a chair and sit back with the transmitter in my lap. I just bump the stick every once in a while to correct her heading and watch her float around. You could call it assisted free flight. Flights of 30 - 40 minutes are routine on a 3 ounce tank.
I have flown this model extensively using only the V-tail, but to prove it, I removed the flaperons and servos. Control response with only the V-tail is excellent as it has been all along.
The model is now about 3-4 ounces lighter (under two pounds) and it climbs like crazy. One person even asked me if I had a .46 engine on the plane. I had to show him the model to prove it was a .15! Generally people think the model has a .25 on it.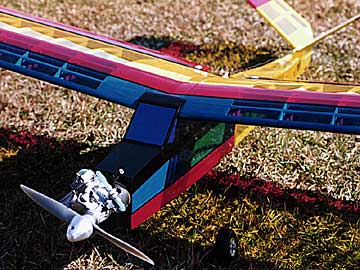 I believe the model would fly well powered by a good .049 or .061, but I have not tried it. If I did, I would not take her out on windy days for fear she might get downwind and lack the power to return.
A .10 is all she needs and the .15 is more than she needs. I like the .15 to get her to altitude fast. With a smaller engine, it will just take a lot longer.
The prototype has several hundred flights and countless hours. So far the only damage incurred has been due to blowing over on the ground. That is just a matter of me not being diligent and removing the wing between flights, leaving her unattended on a table or turning her cross-wind during taxiing on exceptionally windy days.
The first flight on December 22, 2002 posted an endurance flight record for this model. That record was broken on the second flight. The first flight lasted 47 minutes. Great Gonzo ran out of fuel at 34 minutes and was dead stick for the remaining 13 minutes.
I am not a good judge of altitude, but I am guessing she was between 1,000 and 1,500 feet when the engine cut off. Most of the club members present were unable to see her because she was a microscopic dot in the sky.
The second flight lasted 56 minutes. She went dead stick after 38 minutes and landed 18 minutes later. She was at roughly the same altitude as the first flight. I wouldn't know a thermal if it bit me, but apparently I caught some lift to be able to stay aloft for so long.
In fact, at one point she seemed to be gaining altitude and I was seriously concerned about the range of my radio. In any case, I was impressed enough by these flights to tell you about them.