Fully Sheeted Wing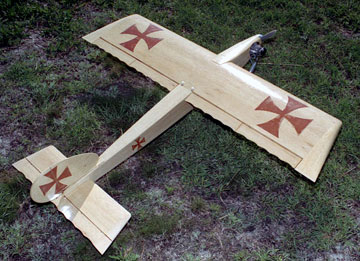 Fully sheeted wings can either have a built-up rib and spar structure or a hot-wire cut foam core.
Built-up versions have a rib pattern that is identical to that of a D-Tube wing. The thickness of the sheeting is subtracted from around airfoil to make the pattern.
Most builders have difficulty with their first built up sheeted wing, but the experience is valuable and a poor initial result should not dissuade you from trying it again.
You will not see too many fully sheeted, built-up wings on sport models for several reasons.
As I mentioned already, many builders are afraid to even attempt it because significantly more skill is required to build a sheeted wing than other types. The ribs must be sanded to flow smoothly from one rib to the next in order for the sheeting to lay smoothly without undulations.
Additionally, it can be difficult to sand the skin smooth at the seams. This is mostly a problem with poor technique or using the wrong glue. The skins should be sanded after joining them but prior to gluing them to the rest of the structure.
Excessive sanding after the skin is glued to the ribs will cause it to have a "starved horse" look. This is because the sheeting sands away at a faster rate where it is supported by the ribs which results in ripples in the skin. In the worst case it is possible to sand through the sheeting at the ribs. Sheeted wings also weigh more than a non-sheeted wing, but only marginally more than a D-Tube wing.
Most builders do not build fully sheeted wings for the above reasons and the fact that a fully sheeted wing does not fly significantly better than a D-Tube wing.
Sport models having fully sheeted wings most commonly have a foam core which are exponentially easier to build. The main drawback of a foam core wing is weight. A properly designed and well built balsa wing will always weigh less than an otherwise identical foam core wing.
Some people will claim that they can build a foam core wing that weighs less than a balsa wing. Without exception, every person who has made this claim to me could not produce a wing to back their claim. I'll believe it when I see it.