Aces of Iron Pilot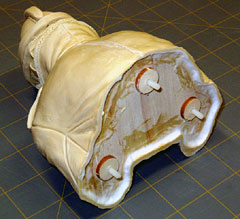 The pilot is made by Aces of Iron specifically for this kit. The sculpting is superb. The pilot looks very realistic although he's a little too old. That doesn't bother me because I don't like seeing kids in fighter planes.
I began by cutting a base from scrap lite-ply to glue inside the pilot. I spot glued it with medium CA and then made a fillet from micro-balloons mixed with epoxy.
To give the mounting bolts more to bite into, I glued three punch-outs from the lite-ply ribs to the bottom of the base. The holes were drilled and tapped for 6-32 nylon bolt studs (bolt head cut off). I didn't glue the studs in the pilot because I clamped alligator clips to them so the pilot could be manipulated while painting.
When the pilot was complete, the studs were discarded and replaced with new ones which were glued in place with thin CA. In retrospect, I probably should have glued the studs in place with silicone so they could be removed more easily if necessary.
I began painting by airbrushing a faded black enamel overall except the face. The face began with a base coat of flesh colored enamel.
The uniform had several washes applied of various colors — mostly gray, black and burnt sienna. After the washes were thoroughly dry I dry-brushed using medium gray. The buttons and accouterments were painted using various grays followed by black washes and lighter gray dry-brushing.
The face was painted using the technique recommended by the Aces of Iron website. I didn't like how theirs turned out because I thought it was too ruddy, but the basic idea applies. I just removed more red before continuing by dry-brushing downward to leave red in shadow areas. I also added some washes to darken creases around the eyes and shadows around the edges of the pilot's face and neck.
About a year and a half after completing this model Mike brought me the pilot whose head was almost completely detached. The back of the neck was the only part still holding it together. I used a small amount of thin cyanoacrylate to glue the head back together. I then cut a hole in the base and reinforced the area with epoxy and chopped fiberglass.
Also see