How to Make a Fenced Drill Table for a Compound Table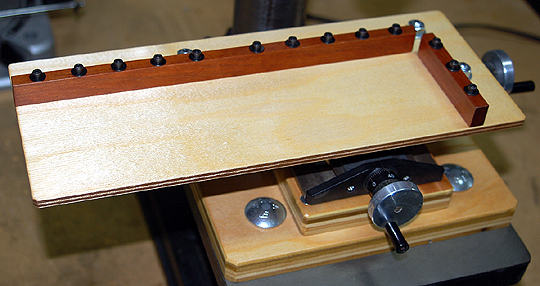 If you have a drill press and you do not have a compound table then you do not know what you are missing. The table shown here is by Microlux/Proxxon. I purchased it from Micro-Mark at the same time that I bought the Microlux miniature drill press.
The table comes with two clamps and in my opinion isn't very useful for wood model-building unless you make a fenced table to mount on it. After you do that you will be using this all the time.
The table mounts on the Microlux drill press without modification. That's how I used it for about a decade until I started doing a lot more production work and switched it over to my bench top drill press.
Other than me dinging it a few time with various drill bits the table is going strong and I'm really glad I have it.
For my bench drill press I would like a compound table a little larger but I haven't been able to find anything. Mostly what I've found are compound tables made for milling machines that weigh more than my drill press table will be able to support.
I had to build a mount to adapt the compound table to the drill press table. The mount is simply two boards screwed together. One of the boards mounts to the drill press table and the other board mounts to the compound table. The boards could also be glued together but I wanted the piece that mounts to the compound table to be removable so if I ever want to mount the compound table to something else I would already have the mount.
The compound adjustment wheel in the Y direction goes below the bottom of the compound table which is why the two pieces are required.
Whenever you drill through the piece you are drilling use a backer board to protect the base of your fenced table. I use 1/4" medium density fiberboard which is very in expensive. For model-building tasks one board cut into smaller pieces will last you a very long time.