Dead On Arrival
The following image shows the radio installation in this model. Again, this is how my fellow club member received the model. This was not his handiwork.
The first thing I notice is the use of EZ connectors on the primary control surfaces. This is an extremely poor practice because EZ connectors often fail in two different ways. The set screw can come loose or the connector itself can part company with the servo arm.
EZ connectors are inherently sloppy and cause twisting loads on servo arms because of the amount they are offset. EZ Connectors are fine for no or low-load items such as throttle, but I do not even use them there. In fact, I do not use them at all. In any case never use these kinds of connectors on any flight surface.
Use a Z-bend, quick connector (uses an L-bend), clevises (solder or threaded) or captured ball links (helicopter style) instead.
Information about Pushrods and Linkages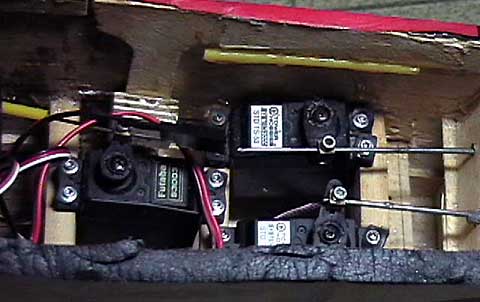 The second thing that is apparent is that the servo mounts are not in the same plane. The middle rail is lower than the other two rails by about 3/8" which means the servos are not mounted properly and the servo arms do not rotate in a plane parallel to the pushrods.
If you look closely you can see that the mounting tab of the left-most servo is actually being bent down under the force of the mounting screws. It is more difficult to see the other tabs, but they are all like that.
Lastly, notice the servo mounting screws. Some of the rubber grommets have been over-compressed and have completely lost their vibration absorption capability. I did not pull the servos out but I suspect that the eyelets were not installed in some of the grommets.
It truly disturbs me that anyone would think this is an acceptable installation. Unfortunately I see things like this far too often. If you do your radio installation before you build the fuselage you can avoid misalignment problems and have a simpler, more reliable and cleaner installation.