Chipping Paint
This is the type kit that gives an airbrush a work out and is a lot of fun to paint. I faded the paint more than usual because this particular aircraft was based in the South Pacific. Approximately 30% flat white was mixed in the blues painted on to the exterior of the aircraft. I also chipped the paint using a method I had come across on HyperScale.
In previous attempts I had attempted to achieve a chipped paint look by dabbing silver paint over previously painted areas using a stiff bristled brush. The effect of this technique is usually not realistic — it looks like silver paint dabbed over painted areas with a stiff bristled brush. I doubt there is a more realistic way to achieve chipped paint look than to actually chip the paint so that's what I did.
The technique is actually simple. Metalizer type paints are first sprayed on the bare plastic in areas that will later have the paint chipped. Next the aircraft is painted normally using acrylics. The acrylics do not adhere to the metalizers so it is simple matter to chip the paint with careful use of a sharp knife.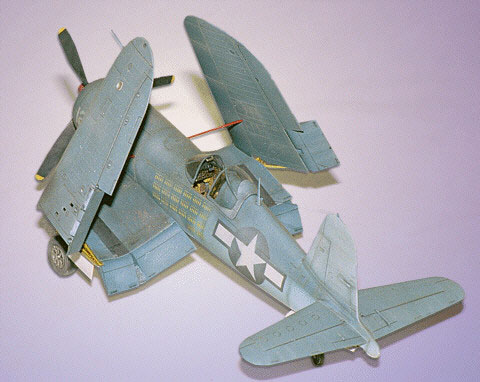 The only modification I made to the technique was to chip a little at a time all through the painting/weathering process so that some chips would be aged more than others. I am very pleased with the results. I have seen some models that had huge areas of paint removed. I don't know if that's realistic or not but I wanted a more subtle look so I took it easy.
The only two additions I made to the kit were seat belts made from surgical tape and a wiring harness made from a strand of brass speaker wire. The diameter of the wire is too small for scale and takes a lot of effort to see. If I had to do it again I would use larger wire here. I would also weather the underside of the aircraft a bit more — particularly the landing gear doors.
Overall this was a very enjoyable project and I was sorry when it was finished. I wish the parts in all kits fit together as well as Tamiya's Corsair. Then I could spend more time doing what I enjoy (detailing and painting) and less time reworking parts so they fit together.
This model is practically begging to be placed in a vignette setting. Hopefully at some point I will find the motivation to build a small Pacific island setting in which to place my Corsair.
I would really love to build a flying example of this type as well and include a lot of detail. I have yet to see a really well-done R/C Corsair on a fly by. The closest I have come is photos in magazines of the Radio Control Scale Masters Tournament.
One day... <sigh>