I purchased the Academy M2 Bradley Cavalry Fighting Vehicle kit when I was stationed Germany and then put it on the shelf for several months. The kit came with an interior that can be displayed by opening various hatches and the crew loading door in the rear.
I was hoping that at some point I would have the opportunity to look inside one before leaving the military.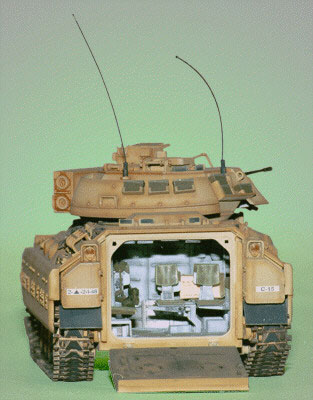 While I never did see the inside of a Bradley, I did get to look around the inside of similar vehicles while I was in Kosovo.
I also spoke with several infantry soldiers who had operated the Bradley IFV. They gave me answers to the questions I had about some of the interior details. I began building when I returned from Kosovo.
The kit was relatively easy to build and I encountered no problems during construction, although the instructions were vague in some places as tends to be the case with models by Academy.
The paint details could have been better as well. Nevertheless, their kits build into nice models with a little extra research.
I added a few embellishments to my off-shade interior including Meal, Ready-To-Eat (MRE) boxes, a load-bearing vest (LBV) and Kevlar helmet. Otherwise, the kit was built straight from the box.
Overall I am not entirely satisfied with the outcome of this model. The most glaring and embarrassing error I made was to glue the smoke launchers on upside down. Eventually, I will remove them and put them back on right. Just goes to show what happens when you do not know your subject well.
The other thing that happened was a mistake of self-delusion. I mixed up a nice light interior green color for the crew area. In the bottle it was a good match to the color I had seen inside the vehicles in Kosovo so I went ahead and sprayed it.
The paint dried to a baby bluish color that does not resemble the correct color in the slightest. I compounded my error by convincing myself that it would be difficult to see inside the vehicle anyway. I was wrong about that as well.
I could have easily corrected the error when I first noticed it, but now I am pretty much stuck with it the way it is.