Books
I have read many books on a variety of model-building topics. When it comes to flying models, there are very few books I have read that were worth the paper they were printed on. Many of the so-called "how-to" books are filled with contrived or useless examples. Others are too general to help you learn more than a brief overview of a small selection of the variety of model types.
That may sound a little harsh, but really I think the problem is that most authors have a great deal of knowledge in some areas but then try to cover all areas which ends up being too little information about a wide variety of topics. Personally, I would rather read a book that focuses on an area where the author has a good deal of knowledge so I can learn something.
One thing I have learned by wasting too much money is that any book having the word "Secrets" in the title, should substitute, "For Beginners." This applies to videos as well. The so-called "secrets" tend to be common knowledge to those with any experience. It is a marketing buzzword that is meaningless.
For a while I was purchasing books documenting a single type aircraft. Between the kit, the book(s) and aftermarket accessories, I was building some very expensive plastic models. I have pretty much steered away from that because it is just not worth it to me. If the kit is not quite accurate that is fine with me for my personal collection. A $30 kit can quickly go over $100 if you really want to deck it out and buy references to ensure accuracy.
Getting on to what I recommend: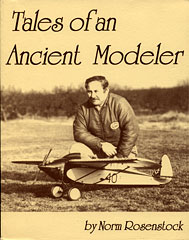 I enjoy reading about the history of model aircraft, but again, the offerings have been scarce. Recently I have been reading Norm Rosenstock's book, Tales of an Ancient Modeler. Norm is currently the AMA historian and has many years of experience. Norm's book is filled with anecdotes dating back before WWII of the modeling scene and people involved in the New York area. I recommend this book for those who would like to know more about our roots.
Radio Control Modeler Magazine has a nice selection of books in their Anthology. I am referring specifically to the books they sell with the RCM brand on them — not necessarily the third party books they carry.
If you are thinking about purchasing an R/C Helicopter, then Ray Hostetler's book, Ray's Authoritative Helicopter Manual is excellent and highly recommended.
If you are designing your own flying models, then you may want to pick up Theory of Wing Sections by Ira H. Abbott and Albert E. Von Doenhoff. This book covers aerodynamics and has a lot of charts and graphs. It also lists many sets of airfoil ordinates which is why I own a copy. The technical stuff is mostly over my head.
Another book that might be good, but I can not say for sure because I do not understand a thing in it either, is Model Aircraft Aerodynamics by Martin Simons.
Alasdair Sutherland contacted me and informed me that he has authored a book titled Basic Aeronautics for Modelers published by Traplet Publications. Although I have not seen the book and can not recommend it one way or the other, Alasdair states that the aerodynamics are presented in a much simpler form than usually found in these types of books. That would make it nice for me because I do not really understand a lot of the dynamics and would like ways to find the answers I need to have without spending months deciphering equations.
If you build plastic models, particularly armor or any model that you would weather, then there are two authors I very highly recommend.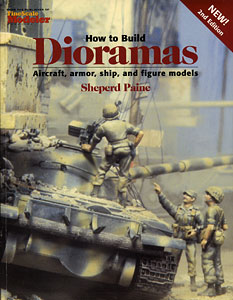 The first is Sheperd Paine. Sheperd's books are beautiful to look at even if you never intend to build a model or a diorama ever. Buy everything he has written. If you can only buy one of his books, then get How to build Dioramas — 2nd Edition.
If you've never seen his work, prepare to be blown away! Anything you ever wanted to know about painting techniques, dioramas, building armor, figure painting, etc. is covered in great detail. If after reading one of his books, you still can not pull of a decent weathering job, then, well, I will leave you to draw your own conclusions.
The other author I recommend is Francois Verlinden. His books are also a sight to behold. Unfortunately, the text and guidance tend to be kind of terse. However, if you have some experience as a builder, you will be able to pick up on how he accomplished certain tasks even when he does not explain it in detail.
A really good book for beginners is Plastic Aircraft Models by Roscoe Creed. The book covers the basics in great detail and teaches a solid foundation to building plastic models.
If you are into scale modeling, then there are a lot of reference volumes available. They tend to vary in detail depending on how obscure the type is and how many are still in existence.
The following are worth the money if you really want to deck out your scale model. One caveat, however. Be sure to actually look through the book before purchasing it to see if it contains the detail you need.
Elite series by Osprey Military.
German Aircraft Interiors 1935-1945 by Kenneth A. Merrick.
In Detail series by Wings and Wheels Publications.
In Detail and Scale series by Bert Kinzey are excellent
Lock On series by Verlinden.
Men-At-Arms series by Osprey Military.
New Vanguard series by Osprey Military.
Walk Around series by Squadron/Signal Publications.
Warbird Tech series by Specialty Press tend to have more technical information and drawings than close-up photos, but are worth taking a look at.
I am sure there are many more reference volumes available than I have listed here. These are simply the ones I have purchased and am happy with.
If you are interested in purchasing an airbrush, then you might want to pick up one of Badger's books. Be sure to get one that teaches you how to airbrush, not just artist techniques.
A book I really like is called The Magnificent Book of Kites by Maxwell Eden. If you have an interest in building your own kites or in tuning kites you purchase, then this book has a lot of theory and detail in easily understood language with lots of diagrams. It also contains plans, information about construction materials and more.
Lastly, although it is not good reading, a really handy book to have around is Standard Mathematical Tables by CRC Press. When it comes time to find areas of shapes such as ellipses, triangles, conversion tables, or other stuff that you forgot right after class, you can look it up here.
By the way, most of these books can be purchased through amazon.com. The Ospry Military series were purchased at on-base clothing and book stores while I was in the Army. I am sure they are available through other sources as well.