My Workshop
Before I go much farther into this article I should tell you that even though I am pleased with my shop it would be a lot different if I had the funds to invest in it. My shop is host to a variety of types of shelving and storage that are odd sizes, intended for different purposes than used and overall aren't as efficient as they could be.
If you can afford to spend several thousand dollars, then you should continue reading to have an idea of the types of things you will need to store, but then get an industrial supply catalogue to find heavy-duty, enclosed metal storage units specifically made for tools, paints and other shop items.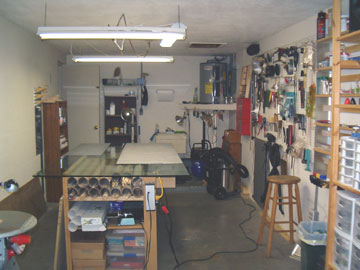 My current workshop is a 10' x 30' garage. It is a true workshop having no yard tools, general household storage or other impurities.
At the far end just to the left of the water heater (ok, one impurity) there is a laundry tub. This is the first time I've had running water in a shop and it has been a true blessing. No more wet-sanding in the bathtub.
The long, narrow shape of the workshop has been a challenge. I've rearranged it several times, but I simply have more stuff than I can set up properly.
The main problem is that when anyone else is in my shop we are always tripping over each other because there is barely room for two people to pass. I would also like the ceiling to be about 10' higher than it is.
Nevertheless it is a good shop and the best that I've had.
Originally there was only one electrical outlet in the entire shop. It was located just to the right of the laundry tub. I had high-amperage extension cords strung all over the shop until I dropped two boxes. You can see the one in the lower right corner of the photo. The other is on the opposite wall and is mainly for my utility bench. I still need to use extension cords to get power to my bench. Both of these boxes share a breaker, but they are separate from the breaker that powers the original outlet.
Most tools I use have a low current draw, but there are times when my compressor and shop vac are running at the same time. When I only had one outlet, the lights would dim and the motors would slow down. Not a good situation. Get your power arrangement taken care of early on to avoid melting cords, blowing fuses, starting your home on fire and other aggravating situations.
Note the lighting arrangement above the bench. I actually have five 4' dual fluorescent fixtures in the shop and one more that I plan to hang. The extension cords all over the ceiling aren't great, but they work and they're on the light switch. Eventually I plan to install real lighting - probably 12' fixtures.
One thing I have considered adding is conduit along the walls that is connected to my air compressor. I would add quick connects about every 6' or so. I use my compressor often for blowing dust from structures and the bench and general cleaning tasks. The conduit would make the setup more convenient.